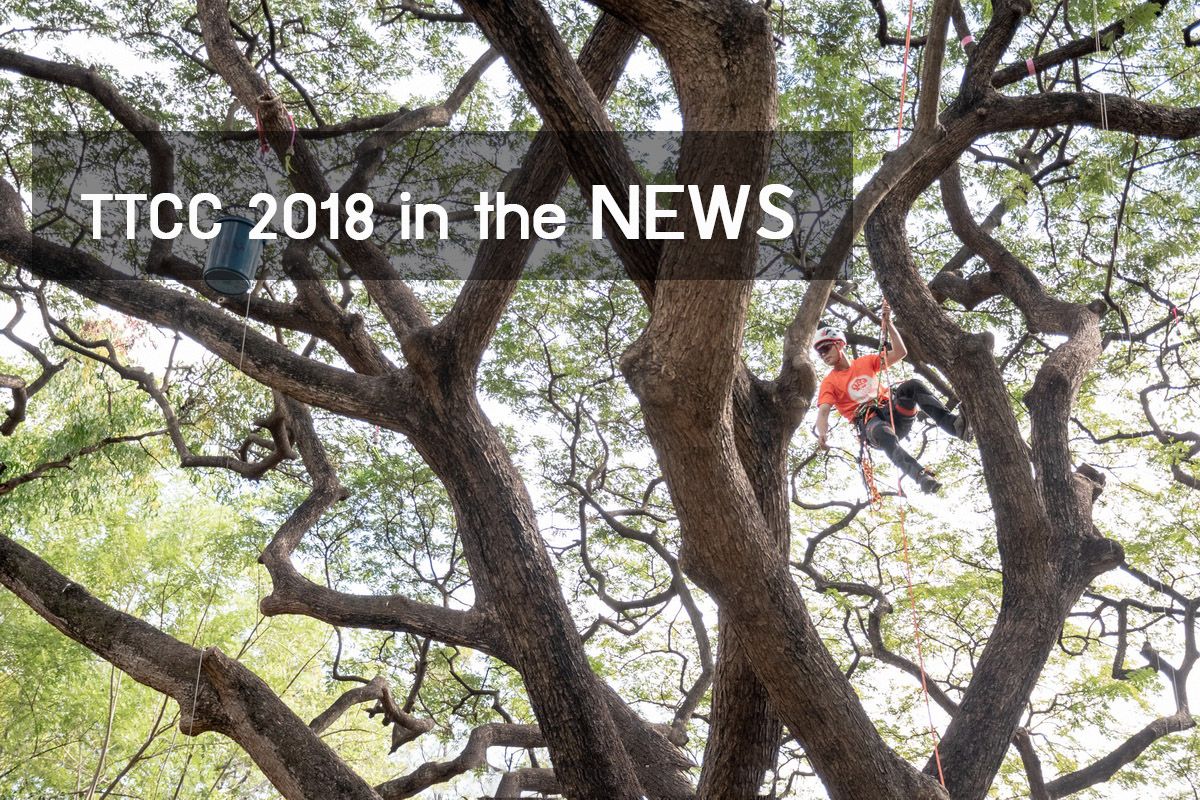 ครั้งแรกของประเทศไทยกับการแข่งขันปีนต้นไม้ Thailand Tree Climbing Championship 2018 (TTCC 2018)
ผ่านไปด้วยดีสำหรับ ครั้งแรกของประเทศไทยกับการแข่งขันปีนต้นไม้ Thailand Tree Climbing Championship 2018 (TTCC 2018) พร้อมการตัดสินตามมาตรฐานสากลโดยผู้เชี่ยวชาญจากนานาชาติระหว่างวันที่ 11-16 ธันวาคม 2561 ณ เกาะลอย สวนลุมพินี ที่ผ่านมา (For English, please scroll down) . ศูนย์รวมนักปีนต้นไม้ทั้งจากไทยและต่างประเทศ เป็นครั้งแรกที่สำคัญสำหรับวงการรุกขกรในไทย ที่จะได้ตัวแทนประเทศไทยเพื่อไปแข่งขันกับต่างประเทศ และเพื่อประกาศให้โลกรู้ว่า "ประเทศไทย พร้อมแล้วสำหรับการมีรุกขกรมืออาชีพ และการดูแลต้นไม้อย่างถูกวิธี"
Thailand's First Tree Climbing Championship Meet the country's first tree climbing competition at Thailand Tree Climbing Championship 2018 (TTCC2018), with international standard, at Koh Loi in Lumpini Park from December 12-16, 2018. Arborist has recently become a household name in Thailand. However, due to an inadequate number of arborists in the country, more professionals, both beginners and experts, will urgently be needed. While beginners will be needed to expand arboriculture in the country, the experts will pass on their skills to the next generation of arborists. Thailand Tree Climbing Championship 2018 will be held for the first time in the country, with international judges and criterion, for local participants to be able to improve their knowledge and skills, and eventually pass it on to others. The winner will represent Thailand at international arborist competition in the future. One of our goals is for them to become a certified arborist. A variety of participants from Asian countries, including Thailand – again for the first time in Thailand, will help Thai arborists to be able to exchange knowledge and learn from the international veterans. Such a competition has successfully been hosted in Europe, America, Australia, and in many Asian countries such as Singapore, Japan, Hong Kong, Taiwan, and Malaysia. During the five-day event, participants will have to attend an advanced training programme on the first two days (December 12-13) before taking part in the country's first climbing competition, Thailand Tree Climbing Championship 2018 (December 14-16). Experts to share experiences at the workshop and be the judges are International Society of Arboriculture (ISA) certified arborists. The list of experts includes Rick Thomas of International Society of Arboriculture from Singapore, Trevor Gardiner and Andy Neverman of Thoughtplanters from New Zealand, Boo Ghim Yew of Singapore Arboricuture Society from Singapore, Saifful Pathil of Tree Climbers Malaysia from Malaysia, and Kathawuth Chaibutr, an experienced arboritst from Thailand who has spent years as a professional in Singapore. The workshop has also been modified to fit Thailand's necessity. Participants will be trained specifically for working around utility poles, preventing unwanted or excessive pruning to the trees. The participants at the workshop will be high-ranking officials and practitioner level from the Bangkok Metropolitan Administration, Electricity Generating Authority of Thailand, and Metropolitan Electricity Authority. Apart from international arborists from seven Asian countries, this year workshop will see four officials from the BMA who attended the workshop held by Big Trees Project, Thammasat and Kasetsart universities, and the Royal Forest Deparment last year. Apart from a competition, including workshop, for professionals, "Big Trees Festival" will also be held in the same area for general public to have a first-hand experience with arboriculture from December 14-16.